Advanced Wood Products Laboratory (AWP)
The AA "Red" Emmerson Advanced Wood Products Laboratory is one of two new mass timber buildings we designed for the internationally recognized College of Forestry at Oregon State University. These new additions to the campus uphold the College's vision to create a dynamic learning, collaboration, and research environment for managing and sustaining working forest ecosystems in the 21st Century.
Details
The AA "Red" Emmerson Advanced Wood Products Laboratory (18,000 sq. ft.) is home to the TallWood Design Institute, which brings together industry and academia to advance knowledge about the use of wood products in buildings through applied research, product development, testing, and professional education. The building provides dedicated research spaces for developing and testing innovative wood products and technologies while producing data that can be applied in research and industry.
Quote
"Together, we set out to transform the educational opportunity for generations of young students who will hold the future of our forested landscapes in their hands, and to change public perception in Oregon and beyond about the role sustainable forestry can play in our changing world, [and] this building absolutely delivers in so many different ways."
– - Geoff Huntington, Director of Strategic Initiatives, Oregon State University College of Forestry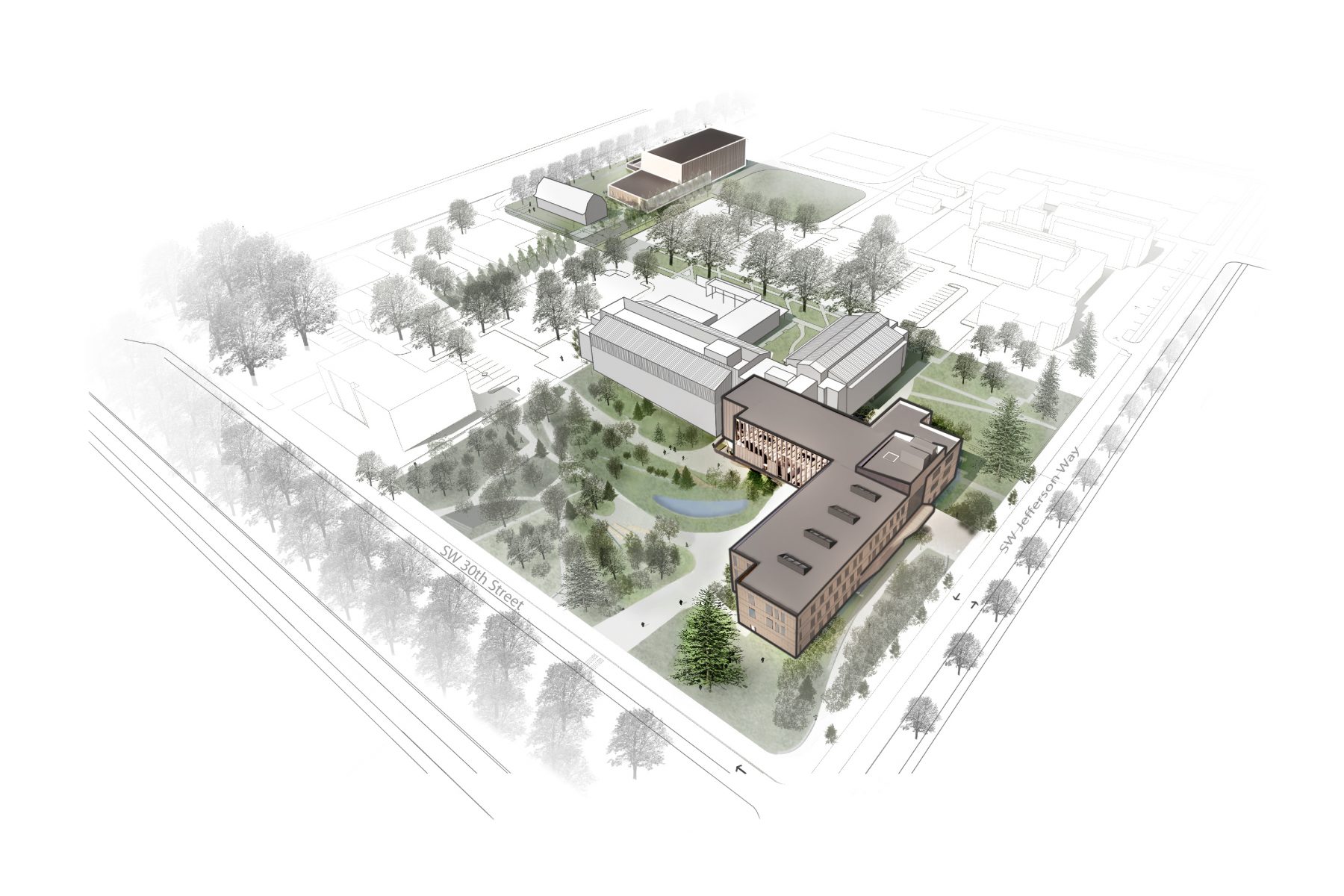 Process
The AWP program required an expansive space to allow for the flexibility to test and adapt to technologies as they emerged. The building structure is a simple and elegant glulam and MPP system that works together to achieve the long span required. The unique design of the AWP building enclosure includes an integration of translucent panels and structural wood panels, creating a beautiful daylit high bay lab space that becomes the backdrop for innovation. The lab space is broken into two bays:
the structural testing bay includes a reaction wall and strong floor to support the heavy structural work and testing of structures up to three storeys high
the manufacturing bay is equipped with advanced robotics and fabrication equipment.
Recognition
U.S. Wood Design Awards – Wood in Schools, 2021
–
Dezeen Award – Finalist, 2021
–
Wood Design & Building Awards – Merit, 2020
–